Everyone is aware of the effect the MAX-11 has had on the sport of subgun competition (as well as for informal blasting). You can essentially take a stock M11/9 bullethose, swap uppers, and have a match-winning subgun. It makes an affordable alternative to buying a Sterling, Uzi, M16/9, MP5, or about any other subgun you can think of.
Of course, it wasn't the first method of slowing down the M11/9. There were a couple of different drop-in rate reducers that slowed the gun down... a little. There was the rarely-seen Urbach heavy bolt. Probably the most successful early on was the TASK slow-fire conversion. This consisted of threading an op rod to the rear of the bolt and using it to actuate a buffer and spring in an M16 stock. For this to work it was necessary to drill a hole in the rear of the receiver for the op rod to protrude through.
It was possible to alter the rate of fire by changing buffers. I remember considering getting Lage's original upper when I was setting my gun up. It used a longer upper, but did not have the added weight. It was intended to be used with the TASK-style conversion. As nice as it looked, I ended up getting an Autowerkes side-cocking upper instead. In the end, it did essentially the same thing for a couple hundred dollars less. The MAX-11 didn't come on the scene for a few more years.
I always thought the MAX-11 was an elegant solution, which made the lowly M11/9 a very competitive gun. But I had not planned on getting one, as I already had my gun set up for competition.
But recently, I found a used one at a pretty good price. So I figured, why not? In comparing the MAX-11 to the Autowerkes upper - or any stock-length upper - the MAX seems a lot bigger. While it is longer, I think this is mostly because the upper is taller as well.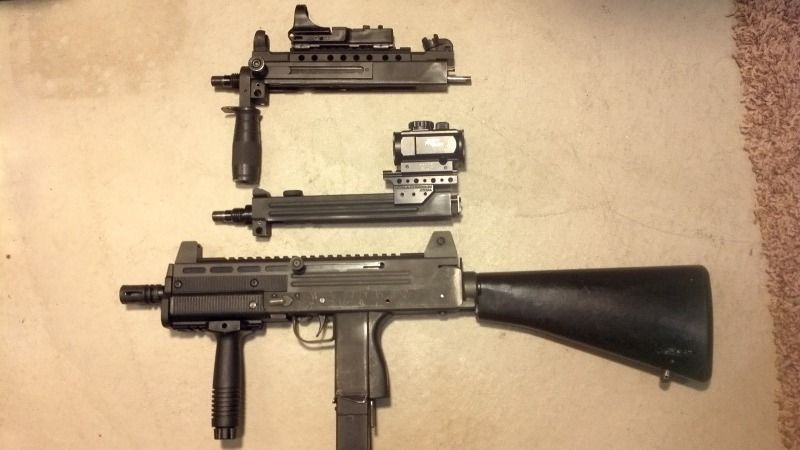 As noted, it is possible to modify the rate of fire on a TASK-style gun by swapping buffers. One can also play with springs to change the ROF as well. By swapping buffers, I can go anywhere from around 630 rpm on the low end to 1250 rpm.
I timed some 10-round mag dumps a while back to get ROF data. Ammo was 115 gr. Win White Box.
Top to bottom in the picture:
Standard rifle buffer - 948 rpm.
9.7 oz. solid steel buffer - 672 rpm.
AAC rifle rate-reducing buffer - 636 rpm.
Standard CAR15 / M4 buffer - 1250 rpm.
9mm buffer - no data
AAC carbine rate-reducing buffer - no data
If that's not fast enough, use the factory spring setup and add extra buffers. With three buffers, I clocked the gun at 1776 rpm. (maybe not so good for competition - but it's a lot of fun!)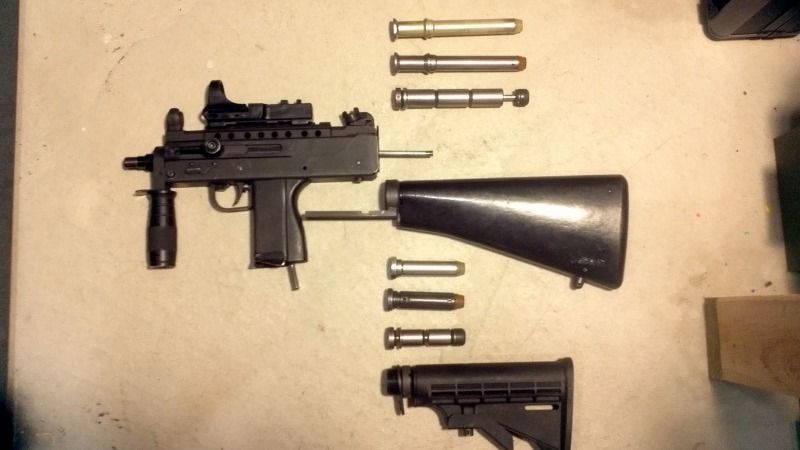 I've got my gun running just slow enough that I can pull singles on demand. There's not really any reason to go slower. I use the AAC rate-reducing buffer, and add a short section of the factory recoil spring. Without the extra spring, I would sometimes get light primer strikes, depending on the position of the weights with that particular buffer. It gives a nice, smooth ROF.
The few times I'd shot someone's MAX-11 in the past, the recoil always felt "chunky" to me. It was really similar to how an Uzi feels. I thought it may have had to do with the different geometry - where the weight was located. Now I think it was just the slower ROF.
I did some testing today, using both uppers. Ammo was some 147 gr. handloads, and 115 gr. Win White Box. I didn't really think the ROF was all that different. But you can see - and hear it in the video. I've got an extra bolt weight for the MAX-11. I'm thinking I might start drilling holes in it to drop weight until I can find the sweet spot.
The other thing I really like about the MAX-11 is that I'm not stuck using an M16 stock. I use the A1 stock so I can get a longer (heavier) buffer. But because of where the grip is located on the M11/9, this gives a slightly excessive length of pull. An M4 stock is better, but a little faster than I want.
I like the idea of getting a folding stock to go with the Lage upper. I like the more compact package for going to and from the range. I find I do the same with the Uzi. For matches or when I'm doing a lot of shooting, I use a solid stock. But for the quick trips back and forth, I put the folder on. I've got a couple of smaller soft cases where I can put in the gun with either a can and the folder, but not with a solid stock.